We had been hiking for hours and hadn't seen a single soul when we reached the top of the lookout. With sweat soaking my back, I laid my hiking pack on the ground. The view was beautiful.
With my friend standing next to me, I thought "how does it get any better than this?!"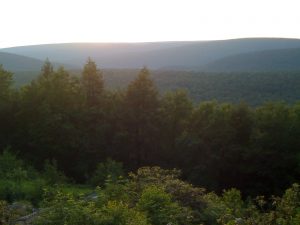 As we sat overlooking Mother Nature's supreme work of art, we soaked in the energy from the plants and animals that surrounded us. Just then, a couple came walking along the trail and stopped to take in the view.
"Do you want some?" our fast friend asked as he held up a bag.
My friend and I looked at each other. "Sure!" we blurted out.
Later that night we carved an apple to use as a pipe and sat at our campsite ready to partake in an unplanned adventure.
It had been 15 years since I had last smoked weed, and I was nervous (and excited)! When I was 12 I had smoked with some friends less than 10 times before I decided it wasn't for me.
But who was I to judge something I hadn't done in over a decade?
We lit the apple, inhaled, and the journey began.
That night was pretty amazing; we laughed, we soaked in the stillness of the Pennsylvania woods around us, and we connected on a deeper level than we had our previous 15 years of friendship.
Months went by and I didn't even think of smoking weed again. Besides, I hated smoke, and had been programmed to think marijuana was as dangerous and harmful as snorting cocaine or shooting heroin! However, I had such an amazing experience the last time that I decided to try it again.
Pow!
Just one hit and I was back in the woods, feeling connected, and enjoying the present moment.
The heightened awareness, the sensations, and the dopamine release were nothing like I had ever experienced before!
I was hooked.
I would experiment and use marijuana off and on for the next 4 years.